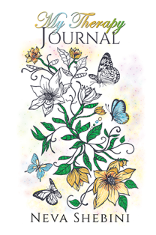 Do you have clients that forget their 'homework'? Forget the entire session? Do you have clients who earnestly take notes in therapy, or collect your handouts, only to lose them somewhere that week? If so, ISSTD Member Dr Neva Shebini, Consultant Psychiatrist, has developed a therapy journal that may offer your clients a solution.
My Therapy Journal is especially designed for anyone who is on a journey of healing. It is a beautifully designed journal and a practical, mindful tool. The journal can be used to keep a record of therapy sessions, whether they are medical, psychological or holistic. It can also be used in conjunction with other healing activities such as yoga classes, mindfulness trainings, health retreats and online wellbeing webinars and courses.
My Therapy Journal has an easy-to-follow format and a client can complete it during a therapy session, or afterwards in their own time. It is designed as a memory aid and includes sections for reflection, planning, and gratitude. Finally, adding a beautiful, creative focus, My Therapy Journal also has a selection of beautiful hand-drawn illustrations for mindful coloring and a Doodle Corner for free-hand drawings.
The journal is available from the publishers https://www.austinmacauley.com/book/my-therapy-journal
And also from many online book shops including Booktopia:
https://www.booktopia.com.au/my-therapy-journal-neva-shebini/book/9781528938761.html
The journal is also available directly through the author – details are:
Dr Neva Shebini at info@peaceofmindservices.com.au
Welcome ISSTD's New Members in October!
Professional Members
Baker Leslie
Cutler Max
Gonzalez Juan Anibal
Jones Melissa J
Keith Jennifer L
McMahon Janette
Mikhchi Khodadad
Mitchell Alicia
Morris Neli
Olson Yvonne
Prine Janyce
Strong Jennifer
Taylor-Kerr Natalie
Thomas Helen
Toombs James E
Wilkinson Eryn
Worth Jennifer
Barling-Day Lynda
Case Jill
Christensen Julie
Coykendall Kathryn
Grosseibl Rachel Jane
Ignace Elizabeth
Orr Emily
Poddar Mansi
Robertson Brian James
Watt Andrew John
Werts Helen
Wolff Kellie Oosterbaan
Student Members
Epere Tarese
Franks Scarlett
Justice Keri
Lawrence Kathryn
Ansari Aadil
Fitzpatrick Alison
Bame Christina


Emerging Professional
MacAdams Evan I
Sleider Sarah Ann
Patterson Georgette Irene
Sanderson Melanie Karls
Suzuki Akiko





Do You Have News ISSTD Members Can Use?
We need your help to make NYCU a great feature, full of news and sharing the activities of our community members. Do you have a book or book chapter coming out that you wish to share? Have you received an award for your work in the field? Have you been part of developing a new website or training course? Have you had a chance to develop something creative and unique that you wish to share with others in the field? If so, we want to hear from you! Don't be shy, submit your news to us so that we can share with other members. (Please be aware: we do not offer book reviews, but a chance to share with others that your book has been published.)
Submission Deadline: 20th of the month
Send to ISSTD News Editor, Kate McMaugh: katemcmaughpsychology@gmail.com