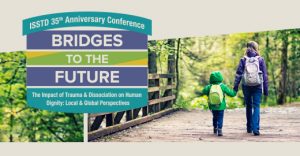 22-26 March 2018
Palmer House Hilton Hotel Chicago, IL
Plans for the 35th Annual International Conference are taking shape.  In 2018, we return to Chicago to stay at the historic and beautiful Palmer House Hotel.  In a previous issue of the Newsletter, we told you about our exciting plenary speakers; Robert Neimeyer, Edward Tick and Donna Hicks. In this issue, we wanted to share with you the depth and breadth of our pre-conference workshops.
A quick backstory:
Paul Dell (inventor of the MID-6, former ISSTD President) spearheaded a move to lay-out the foundation of knowledge and training good trauma therapists should have. This became our Core Areas of Knowledge and the heart of our Center for Advanced Studies and our Professional Training Program.
The conference committee uses these Core Areas of Knowledge to identify classes and established faculty to present fundamental as well as advanced workshops on issues critical to understanding and treating complex trauma and dissociative disorders. Then we reach out to offer training on topics to extend and enhance our knowledge base. We are particularly proud of our 2018 offerings, which include;
Thursday – 22 March 2018
The Image Comes First: A Graphic Narrative Tool for Processing Trauma
Faculty: Tally Tripp & Linda Gantt
Prenatal, Preverbal and Preschool Trauma and Subsequent Development of Dissociation
Faculty: Fran Waters, Na'ama Yehuda, Renee Parks, and Laurie Parker
Complex Ethics for Complex Trauma: Navigating Uncharted Waters
Faculty: Kimber Olson
Eating Disorders, Trauma and Trauma Related Disorders: A Case of DID and Overview of Clinical Science
Faculty: Tim Brewerton
Shame in Complex Trauma and Dissociation: Psychology Meets Neurobiology
Faculty: Ulrich Lanius, Frank Corrigan, Rick Hohfeler, Sarah Krakauer and Ken Benau (moderator)
Friday – 23 March 2018
Dissociation 101: The Beginning, The Middle, and The…How to Set Up a Career Working with Dissociative Disorders
Faculty: Heather Hall and Christine Forner
Four Pathways Toward Thinking Through The Therapy of DID
Faculty: Richard P. Kluft
Tracking the Somatic Narrative of Multiplicity in Trauma and Dissociation
Faculty: Rochelle Sharpe Lohrasbe
The Centrality of Relationship: Client and Therapist Growth Perspectives
Faculty: Phil Kinsler and Joan Turkus
Extreme Abuse: The Crime, the Victims, the Perpetrators, and the Clinical Work
Faculty: Michael Salter, Adah Sachs, and Lynette Danylchuk
2018 Revised Pricing Structure
We've revised our pricing policy. You can now select the number of days you wish to attend and specify those days during the online registration process. All multi-day registrations include the Saturday night Reception & Awards Dinner/Party (assuming you select Saturday as one of the day's you wish to attend). Although in our opinion, every day will be filled with outstanding material, so you might as well buy the whole package.
The Early Bird deadline to take advantage of the lowest rates is February 15th, 2018. Student discounts apply and a discount code for Emerging Professional members.
Check out our Conference Website for more information.
See you in Chicago!
Your hard-working Conference Committee,
Ken Benau
Rosita Cortez
Lynette Danylchuk
Martin Dorahy
Christine Forner
Kimber Olson
Abigail Percifield
Heather Hall (Co-Chair)
Kevin Connors (Co-Chair)