Kate McMaugh, Editor, ISSTD News
Leading Australian Complex Trauma Service Launches Paper on Trauma and Memory
As Australia's ground-breaking Royal Commission into Institutional Responses to Child Sexual Abuse draws to a close, Australia continues to forge ahead with advocacy in the field of complex trauma.
Australia's Centre of Excellence in Complex Trauma, the Blue Knot Foundation has launched a paper on the topic of memory and trauma. The paper, entitled The Truth of Memory and the Memory of Truth: Different Types of Memory and the Significance for Trauma is co-authored by ISSTD Members Dr Pam Stavropoulos and Dr Cathy Kezelman.
The paper was launched by Mark Tedeschi AM QC, the Senior Crown Prosecutor for New South Wales on 23 February in Sydney at the 20th Annual TheMHS Summer Forum, a two day conference exploring the impact of trauma on mental health. Speakers at the Summer Forum included ISSTD Immediate Past President, Professor Martin Dorahy and Dr Pam Stavropoulos, member of the Advisory Board of the ISSTD Scientific Committee, as well as other leading researchers and clinicians from the complex trauma field in Australia and New Zealand.
The paper aims to explain some of the complexities of memory and trauma to the general public, the media and policy makers and practitioners from all fields. It is a timely release, as there is confusion about trauma and memory among some professional groups, as well as the wider community. Much false information is circulated and this impacts negatively on both clients and therapists.
Broad in scope, the paper covers topics such as: different types of memory; the impact of trauma on memory; somatic memory; the protective role of 'forgetting'; and recovered memory.
The Truth of Memory and the Memory of Truth is not a dense, academic document, but is instead a readable, general overview which references popular and accessible trauma books such as Levine's Trauma and Memory. It promises to be accessible to a wide audience and will provide much-needed community education and serve as a valuable advocacy tool.
The paper, which is just as applicable to an international audience as it is to an Australian audience, is available here: https://www.blueknot.org.au/ABOUT-US/Our-Documents/Publications
In addition, to complement this document, the Blue Knot Foundation has also released a series of facts sheets on Trauma and Memory. There are five facts sheets in total, all available at https://www.blueknot.org.au/Resources/Fact-Sheets/Memory-factsheets

Significant New Book Exploring Victim-Perpetrator Dynamics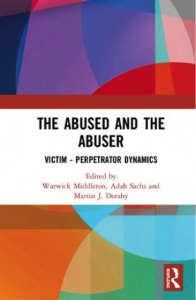 Leading ISSTD Members, including past Presidents Warwick Middleton MD and Martin Dorahy PhD, along with board member Adah Sachs PhD, have co-edited a volume of work exploring victim-perpetrator dynamics. This volume was originally published as a special double edition of the Journal of Trauma & Dissociation in 2017.
The book contains contributions from leading thinkers and writers in the field, including many members of ISSTD. It is worth noting that five of the contributing authors have been presidents of the ISSTD in the past, and indeed two of the Editors are our most recent previous Presidents.
As the title suggests, the focus of this book is on exploring victim-perpetrator dynamics and it does so with great breadth and depth. Topics covered include dissociative processes in intimate partner violence; treatment strategies for programming and ritual abuse; organised abuse; betrayal trauma; mother-child incest; attachment dynamics; and the impact of dissociation and chronic shame, amongst many others.
The book is available for purchase this month. Information is available from the publishers Routledge https://www.routledge.com/The-Abused-and-the-Abuser-Victim—Perpetrator-Dynamics/Middleton-Sachs-Dorahy/p/book/9780815380115
Welcome ISSTD New Members – February 2018!
PROFESSIONAL MEMBERS
Jennifer Allran
James Asbrand
Joan Boyd
Marc Bush
Kevin Drab
Meira Ellias
Nancy Ellis
Jean Gargala
Amanda Hansen
Jennifer Jacyszyn
Beta Leung
Joyce Mojica
Sue Moran
Rita Petersen
Debora Romeo
George Abbott
JoAnne Clark
Johanna Dobrich
Lisa Rocchio
Tammy Rovane
Pamela Sobo
Andre Monteiro
EMERGING PROFESSIONAL MEMBERS
Andrea Kremer
Amy TaylorSTUDENT MEMBERS
Christianna Flynn-Christianson
Anna Fogarty
Alena Kryvanos
Lori Woehler

Have News ISSTD Can Use?
Do you have a book or journal article coming out that you wish to share? Have you received an award for your work in the field? Have you been part of developing a new website or training course? If so, we want to hear from you! Submit your news to us so that we can share with other members!
Submission Deadline: 20th of the month
•ISSTD Editor, Kate McMaugh: katemcmaughpsychology@gmail.com