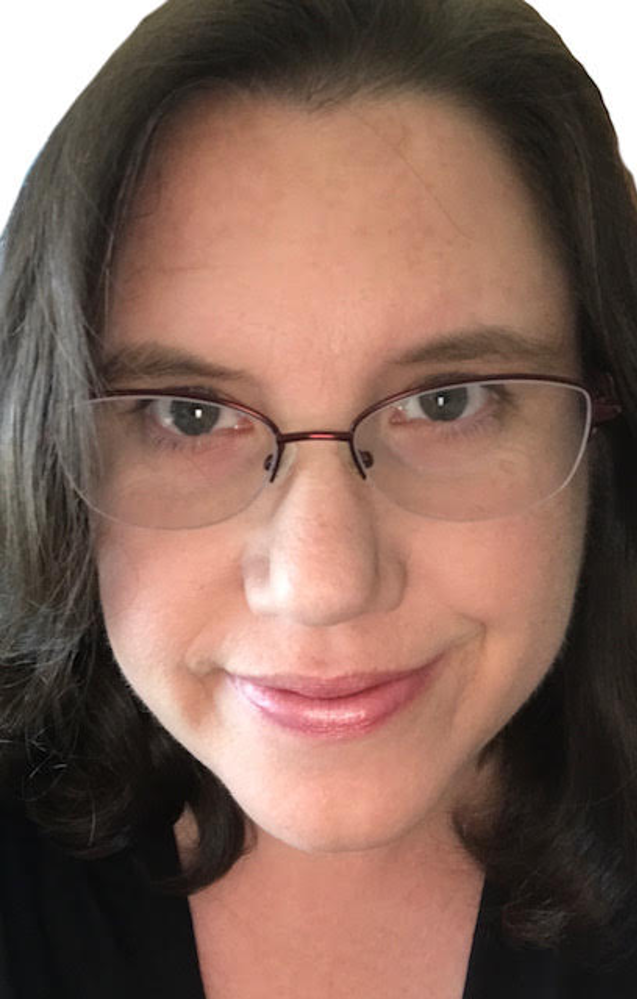 Spreading the Word is a feature of ISSTD News where we focus on the work of people who aim to spread the word about trauma and dissociation to the broader community. In celebration of DID Awareness Day this March, we would like to showcase System Speak: A Podcast About Dissociative Identity Disorder. This podcast is produced by ISSTD member Emily Christensen, under the pseudonym of Emma Sunshaw, who herself has lived experience with DID.
Emily Christensen earned her B.S. in Human Development, her M.S. in Professional Counseling, an MDiv in Pastoral Counseling, and her PhD in Marriage and Family Therapy. She works as licensed clinical counselor and as a community and hospital chaplain, as well as now with the ISSTD as the training coordinator. As a licensed clinical counselor, she has been in private practice since 2004, with additional experience in ER triage, inpatient psychiatric, residential treatment, school-based, and outpatient settings. Withdrawing from private practice following the deaths of her parents, Dr. Christensen is currently the international clinical coordinator for humanitarian aid organizations offering counseling and trauma resiliency training to government leaders, humanitarian aid workers, and first responders in war zones and natural disaster sites. She lectures internationally about trauma and resiliency, and the System Speak podcast airs in 64 countries around the world thus far. Besides numerous syndicated articles online about mental health issues, she is the author of the memoir Keeping Kyrie about the gathering of her family and their fostering and medical trauma experiences, as well as the author of children's books about Autism, Cerebral Palsy, Deafness with Cochlear Implants, G-Tubes, Special Needs Siblings, and Adoption After Relinquishment of Rights.
Diagnosed with Dissociative Identity Disorder, "Emma" and her system share on the podcast what they learn along the way about DID, dissociation, trauma, and mental health. Educational, supportive, inclusive, and inspiring, System Speak documents their healing journey through the best and worst of life in recovery through insights, conversations, and collaborations with clinical colleagues. Guests on the podcast have already included Susan Pease Banitt, Peter Barach, Richard Chefetz, Christine Forner, Cathy Kezelman, Richard Kluft, Rachel Lewis-Marlow, Kelly McDaniel, Warwick Middleton, Pat Ogden, Robert Oxnam, Colin Ross, Dan Siegel, Roger Solomon, Pam Stavropoulos, Kathy Steele, and Francis Waters. One of the most significant clinical episodes of their own was A History of DID, given as the keynote address for the first annual Plural Positivity World Conference online in 2019 (PPWC) entirely presented "for Plurals, by Plurals".
Emma Sunshaw and her system were diagnosed with Dissociative Identity Disorder (DID) by a licensed therapist and psychiatrist following inpatient treatment for a significant fugue experience and related trauma issues. Prior to this experience, Emma had functioned well for nearly twenty years as a doctorate level clinician until both her parents passed away in unexpected and extraordinary circumstances. The layers of this experience triggered a collapse of protective walls that had thus far sustained them internally, leading them to seek treatment.
However, finding appropriate and quality treatment was more difficult than expected due to the rural area in which they lived, lack of quality trauma specialist providers, and "Dr. E" having supervised many of the clinicians in the surrounding area. After several years and several tries, Emma and her system found an experienced trauma therapist four hours from their home. There, they had two-hour weekly sessions for three years before the family moved to Kansas City and they were able to transition to a local therapist for one-hour weekly sessions.
Emma and her system began this podcast when they began to study available research as a form of education to increase understanding both internally and with her husband. They also found many survivor videos online, but with six children with special needs adopted from foster care, she and her husband had little time to sit and watch them. They discovered a few podcasts as a source of additional support, but most of what was available was episodic and general in content. Recognizing this need for an ongoing DID-specific related podcast, appropriate boundaries were negotiated internally and with the external family, and they began a new podcast as a way of educating themselves and others, expressing themselves with familiar technology already used as a system in the professional setting, and collaborating together on a project.
Emma says, "The podcast is not about broadcasting private details, disclosing abuse history, or working out therapeutic issues publicly – though it is very vulnerable, and at times, even raw. It is about documenting one journey, educating many, and finding our own voice. It is about somehow finding a way to bridge the gap between survivor and clinician. It is about advocacy, fighting stigma, and adding substance and quality and rawness to the online conversation regarding trauma in general, and Dissociative Identity Disorder specifically."
Interestingly, the podcast serves an additional function for Emma and her system as they practice listening and speaking, as the body is Deaf and they use relatively new cochlear implants.  Their native language is American Sign Language, and they use special equipment for interviews and editing the podcast.   This challenge has been part of their listening and speech therapy plan, and at times adds to the vulnerability of their efforts.  They wore a lapel microphone attached to the processor (external piece of a cochlear implant) for two years to improve their speech, and they are proud of their progress. Part of listening therapy for cochlear implants includes calling a number every day to listen to a story, as well as speech programs on the computer.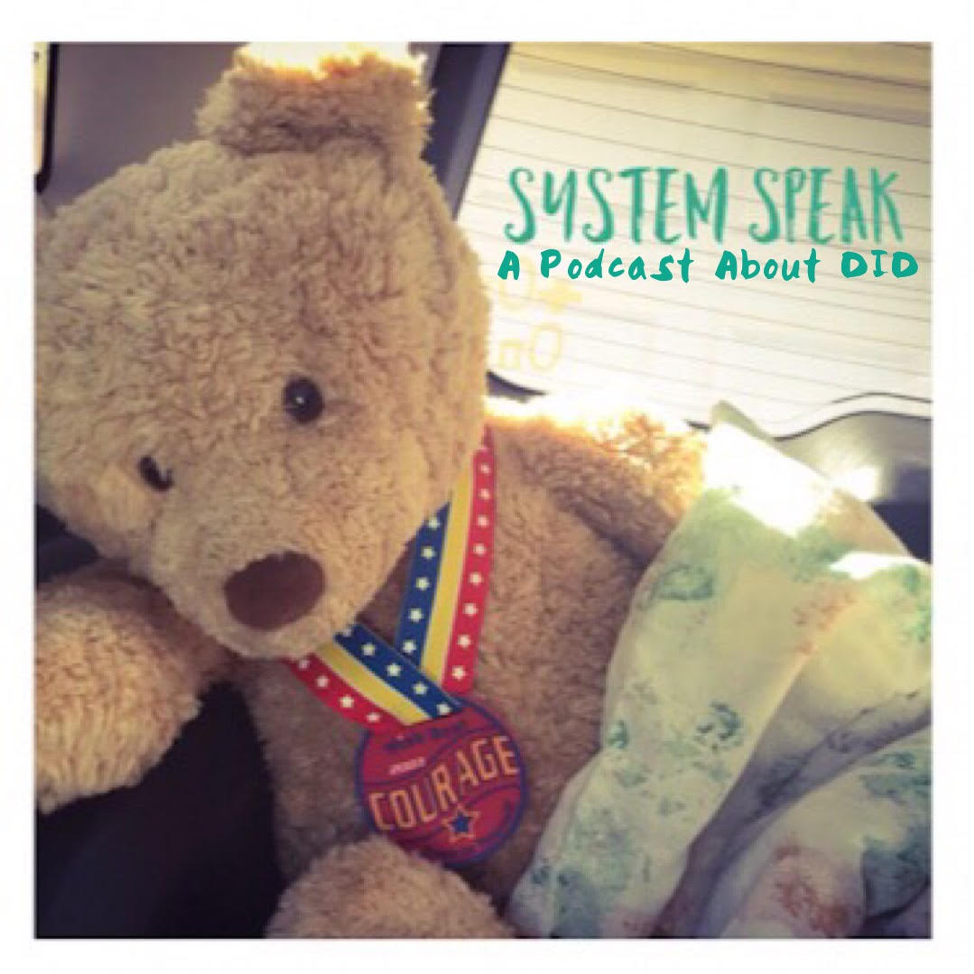 Emma shares, "When we complained about this ongoing journey [with listening and speech therapy] one day with the husband, he joked about just doing an educational podcast instead, as it would be more interesting. When we began looking for information about DID in a format other than YouTube videos, that was when the idea for the podcast started to unfold. To do the podcast interviews, we use Skype to call our guests and have a special Bluetooth and other attachments for the cochlear implants to get the sound directly. It is still a challenge for us, but has been a great exercise in listening, speaking, and processing what we hear – way more fun than automated, repetitive stories we used to have to practice with before! Not all of us are as good with the implants as others, as some are still learning how to use them, or even discovering we have them now, and not all of us can speak. As far as we know, all of us can sign (ASL). We still utilize interpreters in trainings, church, discussions, doctor appointments, and other group settings where it is more difficult because of sound environments. We do pretty well speaking now in quiet one on one settings (like therapy), and don't have to use interpreters for that anymore. But restaurants or noisy conferences are still pretty tricky for us."
In discussing the nature of the podcast, they emphasize that the podcast is not a parade of internal characters, and most of the system does not participate in the project. Those who are participating are sharing what they are learning about DID specifically, not disclosing their own stories or abuse histories. Some who did not initially want to participate have found it more helpful than expected, and finally listening to the podcast themselves has also proven to be beneficial, "somehow making therapy exponentially healing and speeding things along a bit as we communicate more and cooperate better." Trauma warnings are included for each episode in the descriptions, with verbal warnings prior to more intense episodes or when guests may bring up important but triggering topics.
When asked about their top five favorite non-clinical episodes, they shared the following:
These authentic and unscripted expressions through verbal journaling are recorded and shared through the podcast listened to by survivors and the clinicians who treat them all over the world. In addition to the clinical guests, they have also interviewed several different OSDD and DID systems involved in different plural community advocacy projects such as the PPWC and the newly established nonprofit setting up an international "warmline" for DID systems needing peer-to-peer support. Emma's husband is also a frequent guest on the podcast, offering support to listeners who are spouses or partners or other loved ones of survivors. The outside children are guests once in a while, as well, as the family models healthy and age appropriate conversations about trauma and dissociation. Emma and her system share their lived experience and the clinical interviews in effort to bridge the gap between the clinical and survivor communities.
You can listen to the podcast on any player, or at their website www.SystemSpeak.org.