Kate McMaugh, ISSTD News Editor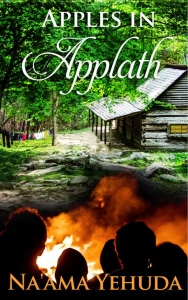 ISSTD Member Na'ama Yehuda has recently published a new book for children: Apples in Applath. This is Na'ama's fourth book and her third work of fiction.
Apples in Applath is geared to teens and young adults (it is generally appropriate for children over 12 years of age). It tells the story of 12 year old Marcus who lost his parents as a baby, his grandma at age nine and his freedom at ten. Now he is on the run with two of his cell mates and one of them is gravely injured. Marcus is faced with life-changing decisions. Where can he and his friends go to? Who will help them? Most importantly, how will Marcus know whether to trust his friends or the ragtag group of runaways and the recluse bear of a man who harbors them? When the worst happens, will he put his own freedom on the line and at what cost?
Through this book readers can see that what makes a home or family is not always immediately obvious; and that hope and wariness, need and conscience, often compete inside those who seek a safe space to call home.
Though a work of fiction, this book deals with trauma and trauma reactions in children, and addresses issues of runaways, sexual and physical abuse, disability, grief, stigma, vulnerability, injustice and the complex realities so many children and teens face and need support with.
Although the book is targeted at teens and young adults, it may well be relevant to therapists working with at-risk populations, as well as to parents and caregivers.
This book is available on Amazon in both print and kindle versions. It is also available on other ebook formats on iBooks, Nook, kobo, etc.
https://www.amazon.com/Apples-Applath-Naama-Yehuda-ebook/dp/B077CWN3PG
Remember to use your Amazon Smiles account and select ISSTD as your charity!
Have News ISSTD Can Use?
Do you have a book or journal article coming out that you wish to share? Have you received an award for your work in the field? Have you been part of developing a new website or training course? If so, we want to hear from you! Submit your news to us so that we can share with other members!
Submission Deadline: 15th of the month
ISSTD News Contacts:
•ISSTD Editor, Kate McMaugh: katemcmaughpsychology@gmail.com