Peter Maves, PhD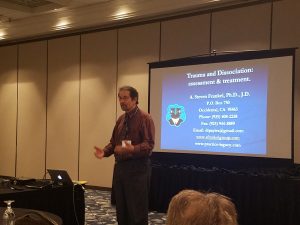 The Denver Regional Conference, held on 8 September, was well-attended by an enthusiastic group of professionals who spanned all disciplines.
Steve Frankel, ISSTD's resident attorney and clinical psychologist, spent the morning speaking about his core concepts of treating complex trauma and dissociative disorders, relating DID organization to the Warsaw Ghetto.  His many examples and lively interactive presentation style was a real hit with the audience.
The afternoon began with a presentation by Peter Maves and Julia Schwab about the theory and practice of using art in a "bottom up" fashion to inform the treatment of trauma and dissociative conditions, and the ways art can contribute to increased clarification, substantiation and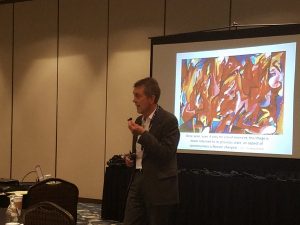 validation of memory content and feelings.  Peter and Julia presented client art and involved the audience in offering their assessments and interpretations of the art work.
Steve completed the afternoon and the conference with a detailed explanation of the legal, ethical and risk concerns of treating childhood abuse survivors.  This important and highly practical session was very well-received by the audience.
ISSTD appreciated the sponsorship of the Solara Residential Treatment Program of Pacific Beach and Steve's Practice Legacy program which provides transition services for those who can no longer practice.
It was a tribute to the success of the day when the attendees left asking for more training events like this in the future.