Kate McMaugh, Editor, ISSTD News
The latest book from ISSTD Fellow and Past President, Colin Ross, MD, offers therapists practical and accessible strategies and techniques for the treatment of Dissociative Identity Disorder.
Treatment of Dissociative Identity Disorder: Techniques and Strategies for Stabilization is written in a similar practical and 'how-to' vein as one of his earlier books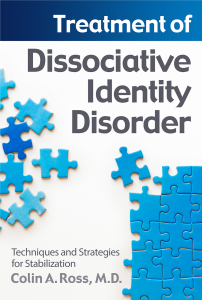 Trauma Model Therapy. A Treatment Approach for Trauma, Dissociation, and Complex Comorbidity (co-authored with Naomi Halpern).
It will be useful to many therapists, particularly those new to the treatment of DID. The information is presented in a brief, to-the-point format which is quick and easy to access for therapists. The book also includes many illustrative therapist-client dialogues.
Topics covered include:
When to suspect and how to diagnose DID
Explaining DID to the client
Therapeutic neutrality
Talking through to the alters
Orienting alters to the body and the present
Journaling, drawing, therapeutic letters, and homework assignments
Group therapy for DID
Working with dangerous alters; and
Ritual abuse and mind control cases
Treatment of Dissociative Identity Disorder: Techniques and Strategies for Stabilization is available to order at the following:
http://www.manitoucommunications.com/EasyCart/Products.asp?CategoryID=1
https://www.amazon.com/s/ref=nb_sb_noss?url=search-alias%3Daps&field-keywords=colin+a+ross+md
(Remember to Use your Amazon Smiles to raise money for ISSTD)
Welcome ISSTD's May New Members!
PROFESSIONAL MEMBERS
Kathleen Brennan
Steve Carlson
Sinead Fahey
Sara Franks
Alice Godfrey
David Kleinschuster
Ailine Ostby
Amy Padron
Suzanne Rouleau
Claudia Warren
Shoshana Elkins
Rebecca Gerbig
Briar Haven
Brenda Hayes
Jewel Jones
Andrea Patten
Carolyn Waterstradt
EMERGING PROFESSIONAL MEMBERS
Kimberlee Harrison
Charles Martinez
Gail Phelps
Katrina Klaehn
David Smith

STUDENT MEMBERS
Patricia Baginski
Kristine Fleitz
Graham Pringle
Have News ISSTD Members Can Use?
Do you have a book or journal article coming out that you wish to share? Have you received an award for your work in the field? Have you been part of developing a new website or training course? If so, we want to hear from you! Submit your news to us so that we can share with other members.
Submission Deadline: 20th of the month
ISSTD News Contact:
ISSTD Editor, Kate McMaugh: katemcmaughpsychology@gmail.com