Pam Stavropoulos, PhD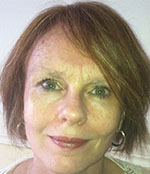 I am delighted to introduce myself as the new editor of MCC. I take over this position from Andreas Laddis, who now edits the new Clinical E-journal. I am a Sydney-based psychotherapist who specialises in complex trauma. I am also Head of Research at Blue Knot Foundation, the premier advocacy organisation for adult survivors of childhood trauma in Australia. A member of the Advisory Board of the ISSTD Scientific Committee, I have co-authored several publications with members of this committee and wrote an Expert Commentary for MCC on an article by Vedat Sar and Erdinc Ozturk in 2014. I am also co-author of the ISSTD-endorsed The Last Frontier: Practice Guidelines for Treatment of Complex Trauma and Trauma Informed Care and Service Delivery which I presented at the 29th Annual Conference of the ISSTD in Long Beach, CA, in 2012. The Blue Knot Guidelines are downloadable free of charge at http://www.blueknot.org.au/ABOUT-US/Our-Documents/
The changed format of ISSTD News, together with launch of the Clinical E-journal, provides an opportunity to revise the current format of MCC. Twice monthly uploading of content, and an end of the month Digest, allows increased flexibility. This paves the way for a change from the previous format of three individual commentaries on a paper which has been published in the Journal of Trauma and Dissociation (an innovation introduced by Andreas). Following consultation, I propose a single-author commentary (likewise on a paper selected from a prior edition of JTD) which I will introduce and on which readers may themselves wish to comment.
Accordingly, and to start us off, I invite expressions of interest to submit a commentary on a prior JTD article of your choosing. This is your opportunity to present a short (1000-1500 word) appraisal of a JTD article which has previously caught your interest! Hopefully there will be many expressions of interest – and thus several nominated papers – which can be followed up for subsequent MCC forums. The archive of JTD articles can be accessed in the Member's Corner area of the website by clicking on the JTD image.
In the event of few nominations, I will be happy to select the JTD paper on which comment will be invited. But `throwing it open' initially is an exploratory exercise it has been impossible to resist! Please contact me at pstavropoulos@iprimus.com.au to suggest a previous JTD paper on which you might like to comment. Commentary does not need to be expert (although expert commentary is certainly welcome!) Rather I hope MCC might serve as a forum to which all who enjoy reading JTD feel motivated to contribute on particular articles which interest you. Expressions of interest for the writing of a short commentary on your nominated JTD article should be received by 30 March 2017.  Hope to hear from you!
Pam Stavropoulos, PhD