Ken Benau, ISSTD Conference Committee Member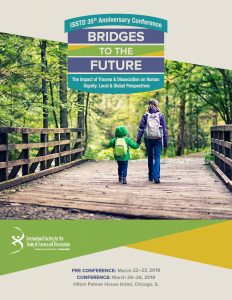 ISSTD's 35th Annual International Conference
Bridges to the Future:
The Impact of Trauma & Dissociation on Human Dignity—Local & Global Perspectives
March 22 – March 26, 2018
The Palmer House Hilton Hotel, Chicago, IL
The International Society for the Study of Trauma & Dissociation is pleased to announce our Call for Proposals for our 2018 Conference will open on 1 August 2017 and run through 15 September 2017.
We are looking for creative, innovative, and exciting presentations on all aspects of understanding, researching, and treating complex trauma and dissociative disorders. We encourage solid scientific and clinically grounded presentations that broaden our knowledge base and sharpen our clinical skills. The use of experiential, interactive, and multi-media presentations is encouraged. Our conference website will open in late July with additional information including the Submission Guidelines and a handy PDF guide on "How to Write a Good Presentation."
To help you plan your proposal, we proudly announce our slate of plenary speakers: Robert Neimeyer, PhD, Donna Hicks, PhD, and Edward Tick, PhD. Dr. Neimeyer, a world-renowned researcher, author and editor or co-editor of hundreds of publications, and psychotherapist with expertise in death and grieving, will discuss how to find meaning and resilience in the face of traumatic loss and grief. Dr. Hicks, whose book Dignity explores how to apply this concept in organizational, national and international conflicts, will present on human dignity and its relationship to dissociation on a global level. Finally, Dr. Tick, author of War and the Soul and Warrior's Return: Restoring the Soul after War, and innovator in the treatment of traumatized, post-combat veterans, will speak to combat trauma, dissociation and "restoring the soul" of the warrior.
Whether you are a veteran presenter, a seasoned clinician, a distinguished researcher, a student, or emerging professional new to our field, we encourage you to share your wisdom, knowledge, and experience with us in the collegial family that is ISSTD.
Follow us on Twitter (@ISSTD), Facebook and LinkedIn or visit the ISSTD website, www.isst-d.org, to stay up to date on conference developments
Looking forward to seeing you in Chicago!