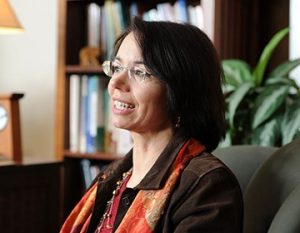 Towson University professor, and ISSTD Fellow, Bethany Brand, Ph.D has been recognized with the highest level of research award granted by the University of Maryland System Board, the Regents Faculty Award for Research.
This award acknowledges Bethany's important research contributions to the study of dissociative disorders and is a well-deserved recognition for Bethany and her team.
It was awarded for her work as the primary investigator on three major lines of study which have culminated in a very impressive 33 published research papers in the last three years:
The first of these is the well-known Treatment of Patients with Dissociative Disorders (TOP DD) study, which has provided important evidence to support the value of providing evidence-based, specialist treatment to clients with dissociative disorders. Bethany and her hard-working research team have published 15 articles based on the TOP DD studies, including analyses showing that when individuals with dissociative disorders (DD) are treated with trauma- and dissociation-focused treatment that is consistent with expert guidelines, they show reductions in symptoms, suicide attempts, hospitalizations, and treatment costs, as well as improved daily functioning.
Her second line of study is aimed at developing methods for distinguishing genuine DD from feigned DD.  This research is helping protect DD patients from being misclassified as malingerers in forensic contexts and is also providing important empirical evidence to validate clinical evidence that genuine DD does exist and can be reliably detected from feigned DD.
Her third line of research analyzes the accuracy and adequacy of content about trauma and dissociation in college psychology textbooks.  Bethany and her research team have documented that many textbooks contain biased, inaccurate, and/or sensationalized information about trauma, particularly about dissociative identity disorder (DID) and memories of child sexual abuse.  She and her team are attempting to change what the next generation of professionals and lay people know about trauma and "recovered memories" of abuse through this line of research.
Bethany's research has provided key contributions to the ever-growing evidence for the validity of DD and the efficacy of treatment of DD. This award is not just an important recognition of Bethany, but also an important recognition of the validity and growing credibility of the field of trauma and dissociation.
Her impressive body of research has been made possible with support from the endowed Martha A. Mitten Memorial Professorship which has enabled Bethany to develop a research lab to study DD.
However Bethany has also had to find creative ways to fund DD research because government funding agencies in America have not funded treatment studies of DD. As part of this fund raising effort,  Bethany and ISSTD are organizing a TOP DD fund-raising conference about treating DD patients. This will be hosted by Sheppard Pratt Health System and Towson University and will be held in Baltimore on October 21, 2017.
The ISSTD heartily congratulates her and what she has contributed to the field.