Martin Dorahy, PhD
Dear ISSTD Colleagues,
It is with sadness that I communicate to you that Thérèse Clemens, CAE, our beloved Executive Director, has tended her resignation to AMG, the management firm we utilise to assist in running the ISSTD. She will start in a senior role in another management firm closer to her home which gives her exciting new challenges.
Thérèse has been with ISSTD for 10 years, beginning as our Program Manager in 2007 and moving to our Executive Director in 2010. At that time the Society was taking stock of financial challenges and had not long transitioned to AMG from another management firm. Thus we were in a state of considerable flux. Thérèse brought a stability and longevity that provided a solid foundation to reflect, forge plans and connection, and reinitiate growth.
She has served with 10 presidents, advising them, acting as a sounding board and supporting their directions. She has worked with countless Board members and has been the only constant on the ISSTD Board of Directors in the last 10 years. She has brought to ISSTD a sensitivity and dignity when working with members of the Society and members of the public, even when they have challenged or attacked the Society (or Thérèse herself). She has also brought a dedicated work ethic focused on the growth and expansion of ISSTD, with routine emails from her late at night or early in the morning, providing information or offering ideas and perspectives to Presidents' and the Board. At the annual conference, and leading up to it, 5 hours sleep is a luxury she rarely afforded herself!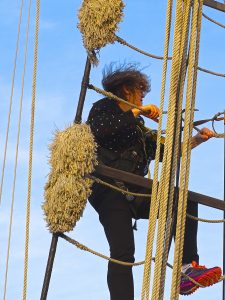 Thérèse also brought to the ISSTD a cherished sense of humour, fostered by generations of Irish ancestry and a 'can do' attitude. She faced our challenges directly and wisely, just as she faced the climb to the crow's nest of a tall ship in Sydney Harbour at the 2015 Australian conference, with a big dose of courage and a small harness.
In demonstrating her true capacity as a leader she has shared her knowledge with those around her generously, none more so than Mary Pat Hanlin, who has worked as the ISSTD Program Manager for the last several years. It is my great pleasure to advise that Mary Pat will take over Thérèse's role as our Executive Director. Mary Pat has tremendous organisational experience, is very familiar with the functioning of ISSTD and has many creative ideas.
She will be joined by Bethany Bjur, who will take up the position as our full-time Program Manager. I welcome Mary Pat into her new role and welcome Bethany to ISSTD. The Society is reliant on engaged, innovative and hard working staff to grow the Society, and work towards our mission of advancing clinical, scientific, and societal understanding about the prevalence and consequences of chronic trauma and dissociation. Thérèse has created a culture within AMG staff that works for the greater good of ISSTD.
On behalf of all ISSTD members, I wish you, Thérèse, a very successful transition and thank you for the dedication you have given to ISSTD in the service of us all. Much success to you as you provide to others what you have provided to us.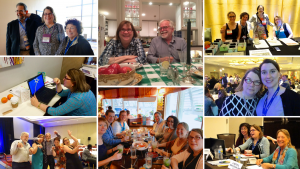 Yours sincerely,
Martin Dorahy, PhD
ISSTD President
Christchurch, New Zealand